Portable Generator for Construction Site
Posted by:
Admin
Tags:
Posted date:
26-08-2020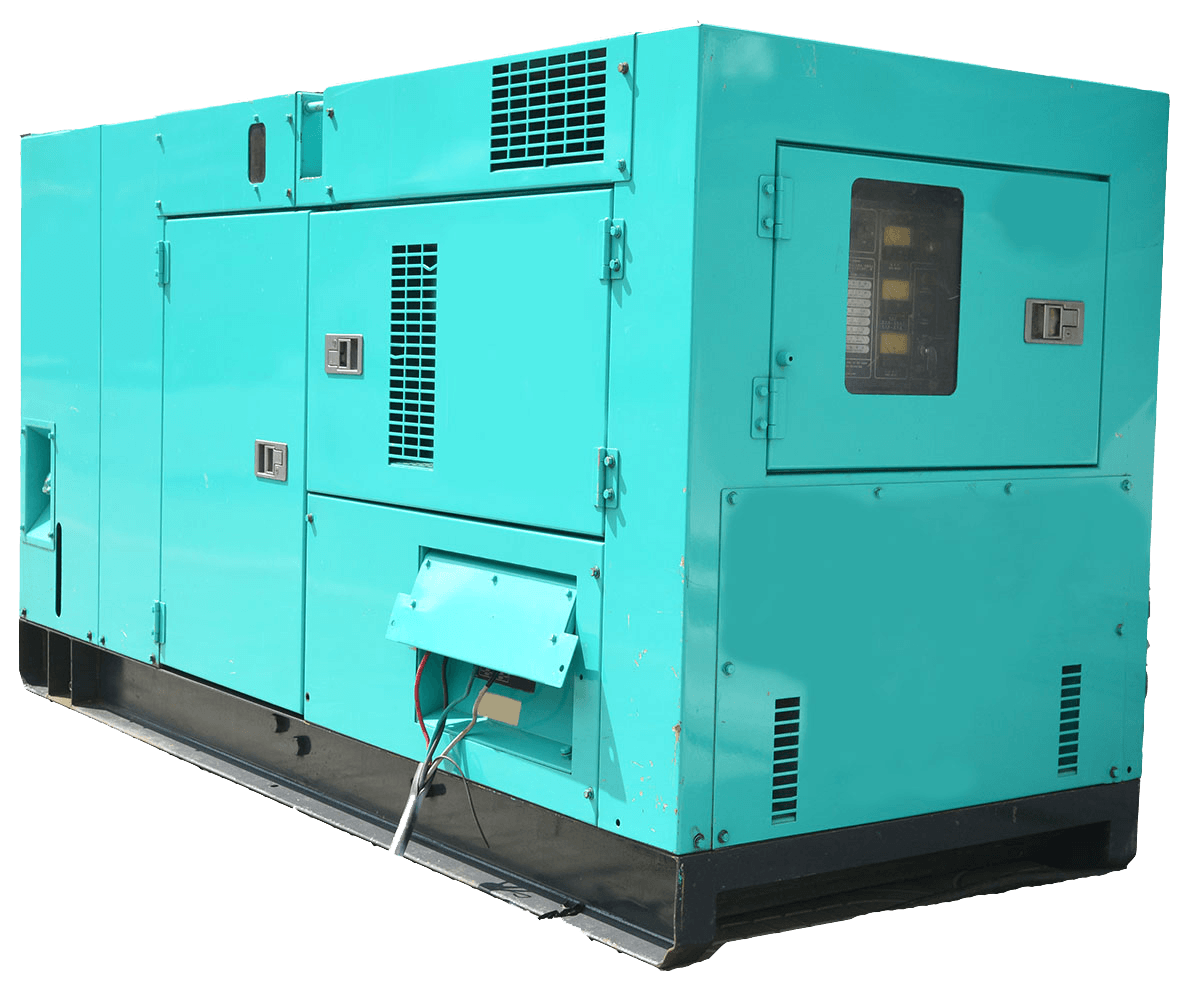 Portable Generator for Construction Site
To be able to use your required tools and equipment at a construction site, such as electric drills, you would need to be able to power them. To be able to do this without hassle, contractors could hire, or purchase a portable generator.
To find the right generator for you and your job, you must consider certain factors. For example, how long you will need the running time of the generator to last, whether you'll have the time to keep up the maintenance of the generator, what model you are looking for, if you require quiet operation and if it will meet the building work requirement.
The best way to store your generator is to keep it on a trolley with wheels to make it easy to take from place to place, but when you put it away, you must make sure it's easy to reach. To maintain your generator, you must get in touch with a professional, as it's important to be done correctly and efficiently.

What is a Portable Generator?
Portable Generators are machines that convert chemical energy into electrical energy. They are extremely useful in instances that cause a grid power outage, such as natural disasters, as they can still supply the electrical energy needed to power your appliances. This means that a generator is essentially a backup power system for when your power cuts out.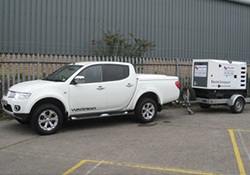 Portable generators come in different sizes, which is measured by the wattage output and can also have different types of fuel source, for example, gas and diesel generators. The portable generators aren't permanent and don't need to be constantly installed. The electricity is generated from the engine, which is powered by gas, and each machine is fitted and made up of the following parts:
Engine
Fuel Tank
Alternator
Starter
Other types of Generators
As well as portable generators, there are also two other types; Standby Generator and Inverter Generator.

Standby Generator
---
A standby generator is an automatic machine that will switch on when the power has been cut off, and switch itself on when the power comes back again. These are usually used in large places that contain a lot of people.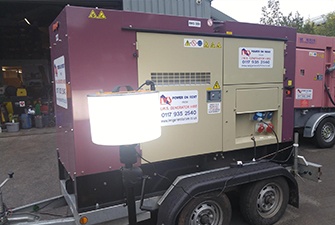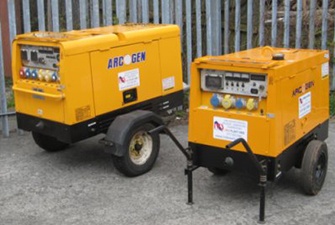 Inverter Generator
---
An inverter generator produces AC power by firstly converting it to DC, then back to AC again, to create stability within the electrical current. These are lightweight, making them easy to move around and transport.
Why use a Portable Generator for Construction Sites?
All construction work needs energy to power tools and other small equipment. A portable generator is the perfect and most popular option, as they can power many tools at the same time, the amount depending on the number of watts, along with other appliances, such as kettles, microwaves, stoves, heaters, lighting, radios, and much more.
Portable generators can also cope well in the environmental conditions of a construction site, and are extremely easy to move around. This is useful for when leaving and arriving at the construction site, to bring it back and forth, or transporting it to different jobs.
They are also very quiet whilst in operation, and can spread the energy they generate over a large area, which most construction sites are. A lot of other power sources may not be able to do this and may cut off in bad weather conditions. Portable generators can supply energy even through weather disasters, and can reach places where grid power can't access.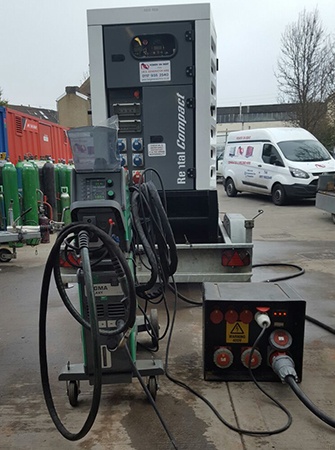 Other Uses for a Portable Generator
Portable generators provide many uses, for residential, commercial and outdoor events purposes. Here are just a few:

What Generator Size Should I Use?
The size of a generator isn't measured by height, width or length; it's measured in wattage. For example, if a generator has a high wattage, it's a larger machine, and if the generator has a lower wattage, it's a smaller machine.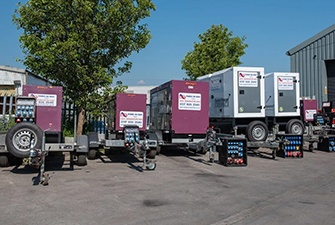 To find the right size generator for your construction work, you need to firstly work out the amount of power you are going to need. This is done by finding the starting wattage, running wattage and total wattage of each appliance.
Then, you need to focus on factor such as, how long your generator will need to be running for, the size and amount of tools you need to power, and the size of the job you are starting. The larger the job, the larger the generator, as they'll be more tools and a longer running time.

The size of the generator is important as if the generator is too large for the job you're doing, then you'll be overpaying, as you will be paying for the unused energy. On the other hand, if the generator is too small for the job you're doing, then your generator will overheat, and won't be able to power your tools very well.
IWS Generator Sales
Our company offers a range of expert services available to our customers, such as installation, servicing, repairs, delivery and advice. We have many years of experience in the generator industry, gaining important and valuable knowledge.
When you want to buy a generator, there are many factors that you must consider before you select one. Our professional service, within our generator sales business, involves helping our customers choose the generator type, size and brand that is right for them and suit their lifestyle the best to meet all their requirements.

We sell both new and used generators, but do ensure that they are all serviced before to guarantee there are no faults. We also recommend that when you get your generator, you have it serviced regularly, so no major problems occur.
Before you place your order, it's best to contact us to make sure we have your chosen generator in stock, and to check it's the right size for your home, or any other uses. To place your order, or for a price guide, please leave your name, the address you would like the generator to be delivered at, the day you would like it, and how long you would like it for (for example, 10 days); we'll get back to you as soon as possible.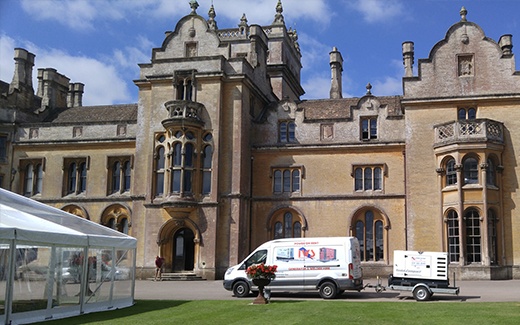 If you would like to find out more information, please visit our website or contact us today via call or email. A member of our team will always make time to answer any queries or questions you may have, or give you a price estimate. We will also give you any help you need and will offer excellent quality customer service to ensure we exceed your expected standards.
If you are looking for reliable generators for sale, we provide the best brands with UK wide delivery.