What Size Generator For Outdoor Weddings
Posted by:
Admin
Tags:
Posted date:
01-12-2020

What Size Generator Do I Need for an Outdoor Wedding?
Have you wondered what size generator do I need for an outdoor wedding? If you run a business that hosts outdoor weddings, investing in a generator is a cost effective idea.
To make sure your outdoor wedding keeps going all night long without a power outage, you will need an industrial style and size inverter generator unit. If you are able to have access to land power, then you might want to use this to fuel as much of the event as you can if possible.

You will likely require extension cords if you're going to use indoor power. It will, of course, result in having too many cords and cables all over the place. It would be best if you considered the safety of your guests (trips and falls over extension cords).
More than likely, you'll need extension cords to use indoor power, and you want to be careful that you don't end up with too many extension cords running here, there and everywhere. You will also need to make sure that the cables you use have all been safety checked.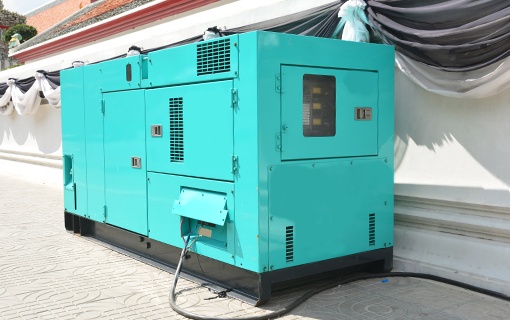 If you hire an industrial-size inverter generator unit, they have a breakout panel and multi circuits that can usually run from between 8 and 12 consecutive hours without any issues. These are tow-behind units with multi-circuit and a breakout panel that can generally run between 8 and 12 consecutive hours without a problem. These units are also tow-behind so can be moved to your place of choice.
It is a good idea to make a list of all the items that will require a power source so that you can discuss them with your inverter generator hire company. They will be able to supply the correct size for your venue. You should also contact your DJ and any other vendors to ensure you are working with the right numbers.
Once you have a full power estimate, consider renting a generator with double the power you actually need. It is always better to be safe than sorry. The last thing you want after months of planning your outdoor events is for a power cut.

How Much Power Does Your Wedding Require?
This setup plan represents a very low key wedding, nothing overly elaborate. It would be best if you kept in mind that the average circuit is between 15 to 20 amps or 2000 watts, each amp is approximately 100 watts.
Here is an average breakdown for the amount of power needed to fuel essential wedding requirements. As you can see, the amount of amps your outdoor wedding will require quickly begins to add up, especially if you are planning a much larger affair.
DJ Equipment: 10+ amps
Food Warmers: 10 amps each
Coffee Makers: 10 amps each
Perimeter Lighting: 2 amps per 20 LED fixtures
Dance Floor Lighting (LED): 2 amps
Dance Floor Lighting (non-LED): 10 amps
Tent Lights (incandescent): 5 amps per 2-6
There are several other elements that you might decide to have at your outdoor wedding, so you will need to factor them into your list as well. For example, do you plan to have your event catered for and require on-site cooking facilities for the caterers? Have you decided to have a photobooth for you and your guests to have memorable pictures taken?
If you are having a Summer wedding, perhaps you will need to consider a portable air conditioning unit, so your guests don't start to overheat. Bathroom/washroom facilities are a must, most portable units have their own generator, but it is still best to check. You will no doubt have a bar for all those cocktails and soft drinks; this will also need power. .
Non-inverter vs Inverter Generators
Inverter generators have greater efficiency and can be up to half the size of traditional generators. Inverter generators are fuel-efficient compared to conventional models. The engine speed will automatically adjust in direct proportion to its load; this means it will maximize fuel tank consumption efficiency while maintaining a 240V supply.

Traditional generators use a heavy alternator whereby inverter generators use a much lighter weight digital electronic alternator; this is called the inverter. The invertor generator produces DC power (direct current), next, the inverter generator "inverts" and converts this to a clean, steady flow of AC (Alternating current) power which lets it provide a very stable sine wave.

This process means you will get the increased run time and energy as pure as the power you get from mains power outlets in a residential property. Portable inverter generators are also extremely quiet when running compared to their traditional counterparts, so no loud vibrating units, which makes them ideal for a wedding venue. The last thing you want at your outdoor wedding is the constant noise and smell from a conventional generator.

What Size Generator Do I Need to Power DJ Equipment?
To power the DJ's equipment at your outdoor wedding, you will require a generator with the preferred output of around 2400 watts. The size of the generator you require depends on the brand; however, it is the number of watts you need to check.

If you have decided to purchase a generator for the DJ's equipment, it can be quite a daunting prospect; there is so much to consider before you choose which inverter generator is right for you. Unless you want to keep the generator for other events you might be holding, it is probably better to speak to someone about hiring the correct size you need.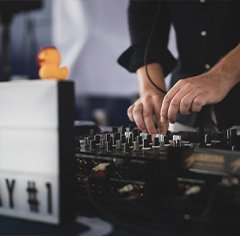 A reputable company will give you all the information and advice you require. The size of the generator you require is crucial; if you have a generator that is too small, it might not be powerful enough to support the equipment that is being used. The last thing you want is the generator overloading, in this instance, the music would stop, and the generator unit may get damaged.
Another essential factor to consider is the average runtime of the inverter generator. Your generator may support greater wattage; however, it might not have the fuel capacity to run the greater wattage for long so that the fuel will run out quicker.
Safety Factors to Consider
Under British law, a power generator must comply with British Standard BS 7671. When a company supplies a generator, it should also have the correct documentation of its operational procedures and electrical power safety. It is also best practice for them to erect a safety fence around the generator.

You must keep the generator outdoors at all times.

You need to ensure that your outlet lead has a PAT tested extension lead.
The generator fuel must be stored well away from any open flames.
If you are unsure that your generator is running correctly or if there is an emergency, you must seek emergency assistance.
Do not keep your generator near water.
If you have to use an extension lead, the wattage should be equal to the sum of watts on the generator you are using, and it should be a maximum of 30 meters long.
If you are looking for reliable generators for sale, we provide the best brands with UK wide delivery.